Vancouver Minor Baseball: Serving Our Youth Community Since 1958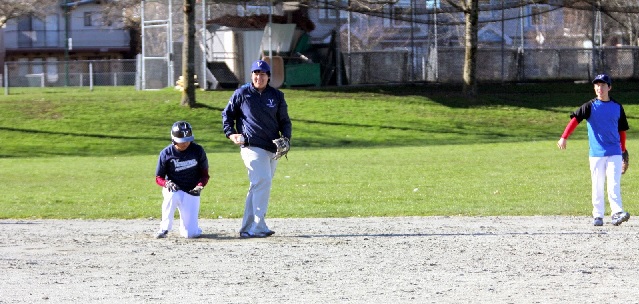 Evaluations for Mosquito , Pee Wee , Bantam and Midget has already started: so sign up !
YOUTH BASEBALL (ages 4-19) FOR VANCOUVER EAST SIDE
Blastball is FREE
Register NOW for Spring 2015
VMBA League Evaluations Start: Sat Feb 28th
Mosquito, Pee Wee, Bantam AA A & Midget
Location Boys & Girls Club or at Nanaimo Park
depending on division.
In order to start your evaluations all players will need
to
register
prior to taking the field. If you have not, go
online to do so now.
Look below
for divisional
times.
We hope to see you all there!!!!!!!!!!!!!

Breaking News
VMBA has been granted all of Vancouver for 13U Pee Wee for 2015 Baseball Season. If you live anywhere in Vancouver & you wish to play Pee Wee - Birth Years 2002 & 2003 REGISTER WITH VMBA !!!!! WE OFFER ALL Pee Wee LEVELS
SHOP NOW for fan wear:
http://urstore.ca/store/vancouver-minor-baseball-vancouver-bc
10% OFF ALL NEW PRODUCTS!

Evaluation Dates
(Players should attend as many as possible,to ensure we have balanced teams)

Tadpole
Sun March 15 Nanaimo Park 1-2:30 pm
(Online Registration on site at Clubhouse. Cash, cheques and credit card accepted)

Sat March 21 Nanaimo Park 1-2:30 pm


Mosquito
Sat Feb 28 Boys & Girls Club 2:00 to 3:00pm
(Manual Registration on site. Cash and cheques accepted)
Sun Mar 1 Nanaimo Park 11:00am-1pm
Sat Mar 7 Nanaimo Park 1:00-3:00pm
Sun Mar 8 Nanaimo Park 1:00-3:00pm


Pee Wee
Sat Feb 28 Boys & Girls Club 3:15 - 4:30pm
(Manual Registration on site. Cash and cheques accepted.)
Sun Mar 1 Nanaimo Park 1:30-3:00pm
Sat Mar 7 Nanaimo Park 11:00am-1:00pm
Sun Mar 8 Nanaimo Park 11:00am-1:00pm


Bantam A-AA
Sat Feb 28 Nanaimo Park 11:00-1:00pm
(Online Registration on site at Clubhouse. Cash, cheques and credit card accepted.)
Sun Mar 1 Nanaimo Park 1:00-3:00pm
Sat Mar 7 Nanaimo Park 1:00-3:00pm
Sun Mar 8 Nanaimo Park 11:00-1:00pm


Midget AA
Sat Feb 28 Nanaimo Park 1:00- 3:00pm
(Online Registration on site. Cash, cheques and credit card accepted in clubhouse)
Sun Mar 1 Nanaimo Park 11:00-1:00pm
Sat Mar 7 Nanaimo Park 11:00-1:00pm
Sun Mar 8 Nanaimo Park 1:00-3:00pm

Evaluations Start : Sat Feb 28th

2015 VMBA Tournaments

Barry Cornwall Mosquito Tournament: May 2-3, 2015
// Team Price $250.00
Contact: Sanjay Prasad vmbmosquito@gmail.com

Victoria Weekend Showdown Pee Wee AA
Tournament: May 14-17, 2015
//Team Price $400.00
Contact: Tom Griffiths tomgriff@telus.net

President's Cup Pee Wee A Tournament: May 21-24th 2015
//Team Price $350.00
Contact: Steve McCann stevemccann24@hotmail.com

VMBA is looking for coaches for the 2015 baseball season

If you are interested in coaching baseball, follow these steps:

1. Apply online
http://vmb.leagueapps.com/pages/CoachApplicationForm Coaches Committee will contact you when application is received. 2. If you are approved to coach and you are not trained, VMBA will cover the cost of getting your NCCP certification for the level you wish to coach at.
3. Do not take any training until you have been approved by the Coaches Committee, in order to receive funding. APPLY NOW SO YOU CAN BE TRAINED FOR THE UPCOMING BASEBALL SEASON!!!

VMBA congratulates one of our own Sam Salvail as he receives a BC ( Minor ) Baseball scholarship award at the 2015 Coaches Banquet.

2015 Spring Registration is now OPEN!!

Youth Baseball for Children ages 4 - 19




Blastball//Rally Cap//Tadpole//Mosquito//PeeWee A AA //Bantam A AA AAA // Midget AA



Important: We have a new online registration system that has 3 parts:

1. Adult/Parent details (birthdate is optional) to create parent account;

2. Child details to create child membership; and

3. Registration portion.

At end, you can choose to pay online with credit card OR click "Skip & Pay Later".

[This position will be run by committee. If you wish to volunteer for this committee please email Tony Borean tborean@shaw.ca


Fundraiser Coordinator




[a] Works with board of directors in implementing existing fundraiser programs.




[b] Works with program director to develop new fundraising ideas.




[c] Collects or arranges for collection of funds during fundraising events.




[d] Coordinates in bringing in league sponsors


Treasurer
[a] Perform such duties as are herein set forth and such other duties as are customarily pertinent to the Office of Treasurer or may be assigned by the Executive.
[b] Receive monies and securities and deposit same in a depository approved by the Executive.Assist League Officials on procedures to deposit league funds.
[c] Monitor, collect and keep all records for the receipt and disbursement of all monies and securities of the Local League. Ensure all cheques are written in agreement with policies established in advance of such actions by the Executive. All disbursements by cheques must have dual signatures.
[d] Prepare statements for the Executive on a monthly basis from February to September and prepare an annual financial report as well as prepare a current financial report for the AGM, under the direction of the President, for submission to the Membership and Executive at the annual meeting.


Special Note

:
1.Seeing as VMBA is heading more and more toward computer work this person should be computer literate, and be able to work with basic online programs.
2 Addition to [d]-Treasurer should be prepared to generate statements for every meeting. If there is no activity then show that in reports at executive meetings.
VMBA now has winter clinics and fall baseball, so position has expanded since this section was last updated in the constitution, but also made easier with more computer use.

B.C. Minor Baseball link :

Click here or on logo to view Players in Action